By Gabriel García June 22, 2022
The first trailer for Netflix's new four-part documentary series How to Change Your Mind has been released.
New York Times best-selling author Michael Pollan's 2018 book How to Change Your Mind: What the New Science of Psychedelics Teaches Us About Consciousness, Dying, Addiction, Depression, and Transcendence is being adapted by Academy Award winner Alex Gibney. The documentary series, like the book, aims to inform viewers about a lesser-known side effect of some psychedelic drugs. The New York Times Book Review called Pollan's work "gripping and startling… makes losing one's mind sound like the sanest thing a person could do." The series will be broken into four 50-minute episodes, similar to how the book is divided into six chapters and an epilogue. Each episode will focus on a different type of mind-altering substance, such as LSD, psilocybin, MDMA, or mescaline.
"The current renaissance in psychedelic research has been the most compelling and hopeful story I've covered in thirty years as a journalist. But it's one thing to describe the powerful effects of these substances in a book, and quite another to evoke that experience, and its incredible potential for healing, on the screen, as the Netflix adaptation of How to Change Your Mind has masterfully done."
                                        -Michael Pollan

Alison Ellwood, an Emmy nominee, and Lucy Walker, a two-time Academy Award nominee, are directing this Netflix series where Pollan guides viewers on a voyage to the boundaries of the current Psychedelic Renaissance, not to mention the hardly acknowledged historical backdrop, to investigate the potential of these chemicals to deliver medicinal benefits and transform minds as well as culture. People's perceptions of psychedelic drugs have shifted over time, but there is still a lot the general public doesn't know or believes about these substances.
These documantaries focus on putting up the series' foundations, indicating that we will learn about good elements of these four medications that we are likely unaware of. The film features interviews with both professional scientists and those who have suffered from mental diseases such as PTSD and have had life-altering experiences as a result of these medications.
The first chapter of the documentary will be released on Netflix  on July 12. In the meantime, check out the trailer here: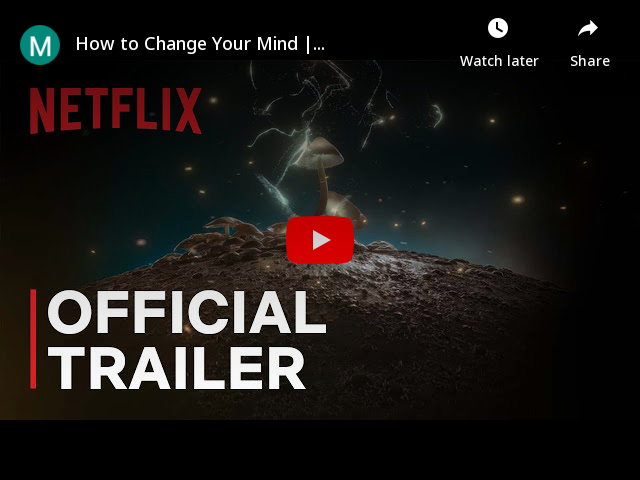 If you are interested in learning more about the past, present and future of psychedelics and the so-called Psychedelic Renaissance, we recommend the Essential Guide to the Psychedelic Renaissance, an essential guide to an essential movement. This book presents the history, neuroscience, legality, therapeutic applications and harm reduction of the most promising psychedelic drugs for science, as an introduction to this revolution that is beginning to spread around the world. The book also includes a foreword written by one of the greatest eminences in this field, Rick Doblin, founder of MAPS, the largest organization of studies on psychedelics.
The book, like the rest of the Psychonaut's Guide series, is now available on Amazon in physical and eBook format, as well as Apple Books. In addition, all titles are available in Spanish version on GuiasdelPsiconauta.com
Take a look at our social networks to keep updated: